Meet the Ford Hybrid and Electric Vehicles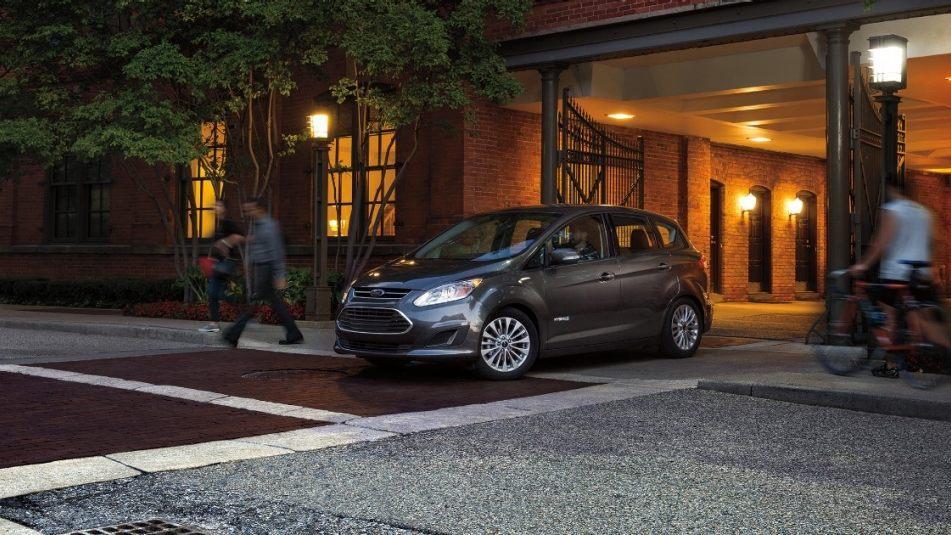 If you've never thought much about buying an electric or hybrid vehicle, it might not be too long until you do. Regardless of how much we love our gas-guzzlers, the days of gas dominating the auto landscape are numbered. Nobody is going to be taking your classic Mustang or F150 off you, but it won't be long until every new car has at least some level of electrification being used to power the wheels. But if you want to get in early on the ground floor with a hybrid or all-electric Ford, here's a quick guide to current Ford hybrid and electric vehicles.
Ford C-Max
The Ford C-Max is a comfortable and spacious five-seat family vehicle that's available as a hybrid and a plug-in hybrid in the range of Ford hybrids & EVs. It's the only model currently in the Ford range that isn't available as a gas-only model. The C-Max launched back in 2013 as Ford's response to rivals' fuel-efficient hybrids, although it has been sold for longer in Europe where it's usually powered by gas or diesel. The C-Max is powered by combination of a 2.0-liter inline-four and a two-motor hybrid system to develop a combined 195 horsepower. And when it comes to that all-important fuel economy, the 2018 Ford C-Max is rated by the EPA at 42 mpg in the city, 38 mpg on the highway and 40 mpg combined*.
Ford C-Max Energi
A 1.4-kWh battery is found in the C-Max, but the C-Max Energi comes with a much larger 7.6-kWh unit that allows for much greater all-electric range before the battery is depleted. Unlike the C-Max, the C-Max Energi can be plugged into a mains electric supply to recharge the batter. Both models are available in two trim levels of SE and Titanium, both of which are very well equipped.
Ford Focus Electric
As the name clearly suggests, the 2018 Ford Focus Electric is an all-electric version of Ford's incredibly popular Focus compact. Although there isn't a hint of gas power under the hood of this one, nobody would know it was an electric vehicle (EV) unless they saw the subtle badging or saw it being plugged in to recharge. The 107-kWh electric motor is powered by a 33.5-kWh battery, and according to the EPA the driving range on a full charge is 155 miles.
Ford Fusion Hybrid
In the same way the Focus Electric looks remarkably similar to a regular focus, the Ford Fusion Hybrid and the plug-in hybrid Fusion Energi look pretty much just like any other Fusion, and that's not a bad thing at all. Under the hood is a 2.0-liter inline-four paired to a two-motor hybrid system that replaces a transmission, and there are lithium-ion battery packs that are located in the trunk. The front-wheel-drive Fusion Hybrid is rated for fuel economy at 43 mpg in the city, 41 mpg on the highway and 42 mpg combined.
Ford Fusion Energi
The Ford Fusion Energi is essentially the same as the Fusion Hybrid, except for a bigger battery and the fact the Energi can be plugged into the main to recharge the battery. The Energi can also drive for up to 22 miles in electric-only mode, and it's rated at the same 42 mpg combined for fuel efficiency in hybrid mode as the Fusion Hybrid*. Both the Fusion Hybrid and Energi are available in four different trim levels of S, SE, Titanium and Platinum.
For more details on these electrified Fords and to schedule a test drive to try them out for yourself, don't hesitate to get in touch with us here at Ford of Upland today.
*EPA- estimated city/hwy mpg for the model indicated. See fueleconomy.gov for fuel economy of other engine/transmission combinations. Actual mileage will vary. On plug-in hybrid models and electric models, fuel economy is stated in MPGe. MPGe is the EPA equivalent measure of gasoline fuel efficiency for electric mode operation.